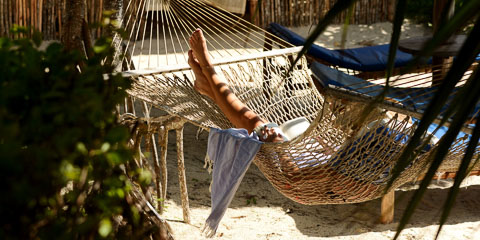 The hotel´s philosophy is to live up to the name 'retreat' – relaxation and tranquility are our key words. Instead of music and television, we offer the soft wispering from the palm trees, the sound of waves on the beach and the distant roar of the waves from the reef off the horizon. We do everything we can to offer you good service – good food, comfortable rooms and care. Our mission is to make you feel totally relaxed!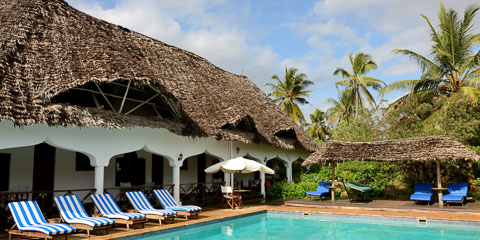 The hotel building was constructed in 2005-2007, to serve as a private home. The current Nordic owners bought the place in 2008 to run it as a hotel, a business that the original owners had just begun. Built in a typical 'Swahili' style with whitewashed walls and columns and windows and porches in dark wood. The roof of the 'makuti' (palm leaves) makes the building blend into the environment. The hotel has twelve double rooms in a single house body (see Rooms/Rates). On the large terrace facing the Ocean all meals are served.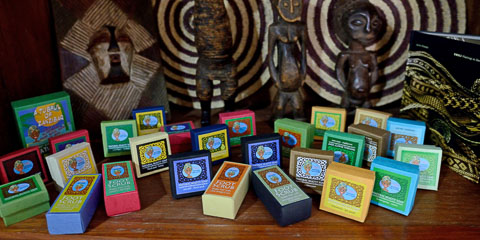 In connection with the restaurant you find a  bar offering drinks and snacks, that you can enjoy in "blue corner", couches facing the beach. At the reception you can buy soaps, baskets, jams, vikoyo´s (fabrics) produced by a local women's group that we are delighted to be able to support (DADA and Seaweed Center) . We have free wifi available throughout the hotel area. The pool is 16 x 8 meters and edged by a limestone deck with sun loungers in the sun or under the shady roof of palm leaves.
On the beach you can rest on the mattress fitted wooden beds under the palm leafs parasols shade, with perfect views of the turquoise-blue sea. From Zanzibar town/airport it takes about 50 minutes to get here on a tarmac road.